10 Steps for Planning a Successful Website
If you're planning a new website you're probably eager to see it up and running. But rushing into things usually results in mistakes that will affect your website's performance.
Yes, there are a lot of "create a website in 10 minutes" articles out there. But what you'll probably get is just another unpopular space on the web. Something that scares your visitors away rather than converts them to a sale, and that's once they manage to even find your website among the competition out there.
That is why you need to understand the importance of planning a website first.
What Does a Successful Website Need?
There are millions of websites around the web and standing out from the crowd is no easy job. With so much competition, it takes a lot of effort and working hours to make it successful.
When it comes to building a website there is no single recipe for success. There are, however, some common website plan factors that are known to help in the process.
What is even more important is that these factors need to work together to achieve the result you are looking for. If you don't pay attention to the look of the website, then it doesn't matter how great your content is. Neglect the security of your viewers' details and they won't come back no matter how helpful your website may be to them.
Here are the well-known criteria every website needs to meet to become successful.
Design of the Website
To put it simply, a visually pleasing website will hold the attention of readers. But making it look pretty is only part of the job.
When users are visiting a website they rarely stay on a single page unless they are attracted by a specific blog post or sales pitch. And even then, when the content appeals to them it is only natural that they stay around for longer.
To help the users enjoy the experience while looking for the information they need, you need to ensure they navigate easily through the different sections.
A professional web designer can create a website that looks crisp, with consistent page design and easy to use navigation. In case you have decided to set it up yourself, it is still a good practice to at least consult a professional when planning a new website.
Since many users today browse online from different devices like smartphones, tablets, e- readers, and more, it is recommended that your design is also mobile-friendly and responsive.
Search Engine Optimisation
Search Engine Optimisation is the process of growing the quality and quantity of website traffic – Wikipedia
There was a time when SEO was only keywords, links, and meta descriptions. With the ever-growing number of websites, however, mentioning a keyword a bunch of times is no longer sufficient to rank well with the search engines.
Simply put, on-page SEO means taking care of the most important aspects of your content so that it will be recognisable by search engines:
Meta descriptions on all pages, with attractive and descriptive metadata.
Keywords that have been carefully chosen after doing keyword research. Long-tail keywords are usually easier to rank due to the lower competition.
Headings to separate the content visually. Use your main keywords in the headings as well for the best result.
SEO optimised URLs with keyword-rich text.
Compressed images with meta descriptions. Large images will slow down the loading of the page. Additionally, the alt text could include your keywords for extra SEO points.
If you are creating your own website you should make sure that it has the right configurations to be crawled by the search engine robots. If you have chosen WordPress as your platform then this is usually already taken care of.
The most important aspect of off-page SEO is link building. Links could be natural, meaning someone liked your content and decided to mention you on their website or blog post. Or you could work for them by asking influencers, partners, or clients to link back to your site.
You could also post your link when commenting on blogs and forums. Still, be sure to add a valuable comment when doing so, otherwise, you risk being banned and damaging your reputation.
To rank best, the websites that backlink to you should:
Have high domain authority
Be related to your industry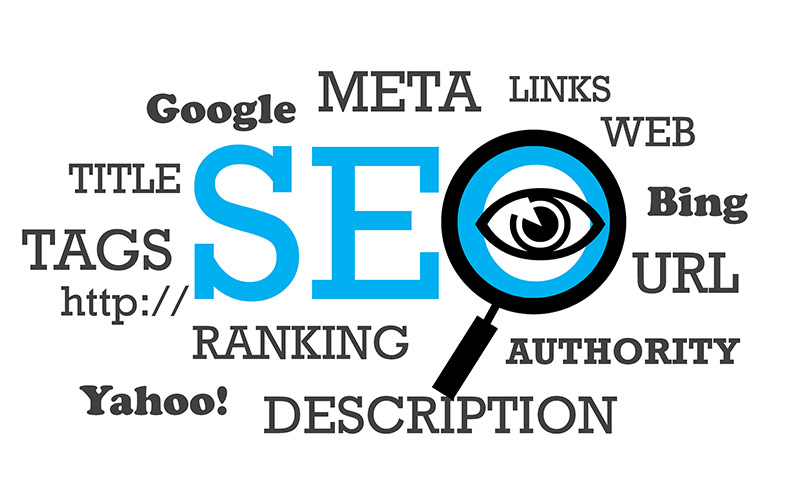 Marketing
Digital marketing is a way to bring more visitors to your website. Usually, this is done by blog posts and social media.
Content marketing is one of the ways to promote your products or services. In essence, you try to attract the readers' attention to what you're selling without asking them to buy it directly. Instead, you reach them by providing valuable content that solves their problems.
Content could be in all forms including articles, videos, podcasts, infographics, and more.
Today email marketing is not as popular as it used to be. Still, people tend to subscribe to the websites they like. Sending them useful emails about new products, services, or trends in your industry is a good way of reminding them to visit you again.
Sending emails could be a little tricky, though. Do not overwhelm your subscribers' inbox, use descriptive subject lines, and provide useful information. Otherwise, you risk going to their spam folder and even lose them as customers.
Social media marketing is one of the most popular ways to promote your website. Having accounts on several social media platforms has been a must for a while for both business and personal websites.
When planning a new website is it important to carefully choose among the popular platforms and pick only a few that could actually bring leads to your website. Having a page on each platform may sound like a good idea but if you don't have a team of marketing specialists behind you, it is very likely that you won't have the time to manage them on a regular basis.

Website Security
One of the most important factors in any successful website is how secure it is. This is especially the case if your website is collecting customer data. When a user or a client enters their sensitive data, they expect you to keep it safe. On the other hand, if your website doesn't look secure enough, there is a higher chance that they will go somewhere else instead.
Several elements are known to inspire trust in your visitors. Here are some key items to include in your website planning:
SSL certificates enable you to serve over HTTPS protocols. This allows for an encrypted connection between your website and your visitors protecting the exchange of information.
A web firewall protects you from hacking attacks. Many hosting providers offer a firewall as part of their service. To avoid potential issues keep all your plugins up-to-date, as they are the most common point of attack.
A safety backup could save you a lot of headaches in case something goes wrong. No one likes to think something bad could happen. However, accidents are not uncommon, especially if you're running regular updates. A backup will allow you to restore your website to the point before the accident.
A trustworthy payment gateway is a must if you're running an eCommerce website. Your clients are more likely to finalise their purchase when they trust their payment details are secured.
Steps in Planning a Website
The importance of planning a website may seem low on the priority list at first. However, creating a competitive and successful website is no easy job. By planning a new website you ensure that you won't miss an important step that may make or break your online presence.
Step 1: Define Your Goals
If you have decided to create a website then you should already know why you need it.
Some people create a website to give their business an online presence while others just want a place to share their thoughts or creativity with the world. Regardless of the case, to reach the result you are looking for, you have to define a clear goal that you're after.
The first question you need to ask yourself is what the purpose of the website is? Here are a few examples of goals you can include in your website plan.
Increasing your business profit – suitable if you're planning an eCommerce or online business website
Generating leads – suitable for small businesses or affiliate websites
Informing readers – suitable for personal sites or those looking to profit from advertisements
While your main goal may be obvious, it's a good practice to break your high level goals into smaller easier to execute ones.
For example, increasing your sales sounds great, but how are you going to achieve it? You'll need to drive traffic to your website and build brand awareness. To monetise your personal blog you would again need to drive traffic but also to build a community that would follow you regularly.
Another way you could easily measure your success is by setting SMART goals. SMART stands for:
Specific
Measurable
Achievable
Relevant
Time-bound
In other words, these are smaller milestones that are relevant to your main goal and are set in a given time frame. They are also easy to track since they are not abstract like "drive traffic".
An example of a SMART goal is to reach 1000 visitors a month in 6 months after launching the website. Or reach 100 sucbscribers within a month from launching, or 1000 within a year.
There are online tools like Google Analytics that could help you track your progress with the SMART goals.
It is important to note down all your goals before you start designing as they will have a big impact on the final look and feel of your website.
Step 2: Do Your Research
Planning a new website also means knowing who your target audience is and what your competition is doing to get their attention.
A popular method to define your target audience is to create a user persona. This allows you to see how your business could help your customers from their point of view. A user persona is a made-up character who is representative or a larger customer group. Giving a face and name to the raw user data makes it easier to comprehend and follow.
In addition to the general age, location, and stage of life, a persona provides a more personal touch by taking into account the user's personality, interests, dislikes, goals, motivations, company information, or role in the company.
Creating a user persona will help you keep your users' interests first instead of focusing on your own wants and needs—a mistake commonly made by many website owners.
Once you know your target audience, you need to check out the competition. And no, we don't mean replicating what they already have. But whatever it is that you plan to do, there is a high chance that someone online is already doing it successfully.
When looking at your competitor's websites there are several things you should look for:
What do you think is working well for them?
What could be done better?
How often do they add new content or items for sale?
Are there any trends that you notice on different websites related to your industry?
Are there any good practices you haven't thought about?
Are there any gaps that you may be able to fill?
Compare what you already had in mind with what you found. Understanding the current industry trends will help you create a website that will be more useful and attractive to your visitors.
Plus, it's a great source for some extra inspiration.
Step 3: Set Your Budget
Setting a realistic budget is an important part of planning a new website. When preparing your budget, consider not only the costs associated with the creation and launching of the website but the ongoing costs as well, at least for the first couple of years.
The initial costs you may need to plan include:
Domain and hosting
Website design and development
Graphic design
Marketing research
Content writing
The ongoing costs associated with maintaining the website may include:
Domain and hosting
Marketing and advertising
Content writing
Updates and maintenance
While you may decide to assign some of these tasks to yourself, it is better to at least consult with a professional to ensure you are working according to the best practices in the field.
If you decide to compare the different offers for each task, be sure to check not only the price you'll pay initially but what you'll get in return as well. If the budget allows it, a team of professionals will be able to create the successful site you are looking for.
When you select the team you will be working with, be sure to check for references and previous experience with examples of websites they've built. Ask a lot of questions. A reputable and insightful team won't mind answering them all.
Step 4: Pick a Domain Name and Hosting Provider
While these could be looked at as separate steps in planning a new website, many hosting providers offer a domain name as part of the package, allowing you to save some money along the way.
Choosing the right domain name may be one of the most challenging things about planning a new website. Especially if you're on a limited budget.
You'll need a name that is easy to remember, related to your industry, and most importantly, still available. If you already have an established brand, ideally you'll be able to fit that into your domain.
Having a .com domain is preferable since most users are used to it. But with the millions of websites around the web, there is a high chance that the name you initially thought of is already taken. Or if it's available it may be reserved for a (sometimes significantly) higher price.
If the name you wished to use is available then that's great. If not, here are some ideas on how to think of another great name.
Do a keyword search relevant to what you offer to find out what other people are looking for.
Brainstorm ideas and keywords you like and check how the different combinations sound.
Use a domain name search to check which of the names you consider are available.
There are also a few things you may wish to avoid:
Domain names that are more than 3 – 4 words are hard to remember.
Avoid using numbers and special symbols unless they are part of your brand's name.
Avoid settling for a domain like .co, .live, .online, etc., unless you are looking for a specific effect.
Take your time finding the right name because once your website is established, it is very difficult to change it without disturbing your followers' experience (and your SEO).
Once you have a name for your website you'll need to choose a hosting provider.
There are plenty of hosting options around so you need to carefully pick the provider and plan that would best suit your needs. If you are going to use a team of professionals to design and develop your website, they can provide valuable advice on the most suitable options for you.
Still, if you are going to make the decision yourself, here are a couple of tips to help you filter the offers.
How much traffic can the plan handle? You may not be getting a bunch of traffic at first, but the plan should be able to easily handle your targeted traffic.
Is the plan suitable for the design you have planned? Your website may be 5 pages or 5000 pages. The storage the plan provides should be compatible with the volume of pages, products, or content you plan to develop.
Are you going to sell your products online? There are specific plans for eCommerce sites that provide a trustworthy payment gateway.
Do they offer 24/7 support? You need to keep your website up and running. If any issues arise, the hosting provider should be able to assist you immediately to reduce the website downtime.
Step 5: Prepare Brand Identity?
Every website should have a brand identity. Even if you're not running a brick-and-mortar business, your visitors will need to associate your name with a logo or an image.
Brand identity includes all assets that you use for consistency throughout your website, social media pages, and marketing campaigns. It generally includes:
Logo
Typography
Email and stationary design/template
Colour palette
Business card design
Product packaging
Conventions for using these elements and more is usually compiled in a brand style guide. Working with a graphic designer to create the brand identity will help you stand out from the crowd, get noticed, and remembered.
Step 6: Plan Your Content
Every website needs content. Whether it's a business website or a personal blog, content is what you present to the world.
There is a common misconception that content means blog posts. But there are many other types of content that can be incorporated into a website:
Articles and blog posts
Guides and how to's
Salescopy
Inspirational content
Interviews
Reviews
Case studies
Product pages
Updates
Question and Answer
Images
Infographics
Slideshows
Videos
Podcasts
About pages
Utility pages
You might also like: Check out our guide on How Many Pages Does a Website Need?
You'll get a good idea of the importance of planning a website if you try to enter the design phase without planning your content first. The type and amount of content affect the way your website should look and feel.
To rank well with the search engines you'll need to update your content on a regular basis. Many website owners don't have the time to prepare this new content so they turn to content writers instead. A professional content writer will add to your budget. However, the detailed and engaging content you'll get in return will pay off in traffic and rankings.
If you are planning to grow inbound leads via search marketing, it's important to plan the content correctly. Planning your content can be done by you or a hired freelance writer.
If you decide to do the job yourself, it's a good practice to prepare a wireframe that will help you stay consistent. Choose the font style and size that you'll use. Pick a colour scheme and image style and stick to it.
Investing in quality images for your website is also a great option if your budget allows it. If you decide to go for free images, make sure their license allows you to publish them on your website.
Before you start working on the actual design, it is preferable to have at least a few examples of content ready so that they can be used in the design to get an actual feel of the end product.
During the design stage, you would also need to prepare some content in advance. A month or two worth of content ready to be published is usually a good starting point when launching the website.
Step 7: Choose Your Web Designer
Once you're done with the basics, it's time to start thinking about the actual website. There are several options to choose from when it comes to who is actually going to create the website:
A big agency
A small agency
A freelancer
Yourself
If you choose to create the website yourself there are plenty of tutorials around the web. WordPress also provides many free and paid templates to choose from.
However, if you plan on running a business website or one you wish to monetise, it is best if you hire someone to design it and set it up. Who are you going to work with, depends on your personal preferences and budget.
A big agency will cost more but you'll be able to count on a team of professionals to design and develop your website. A small agency, on the other hand, will usually cost you less but you may expect a longer design and development process. However, you'll generally get the most attention to detail with a small agency, as well as a much more personalised experience.
Should you choose to work with a freelancer, be sure to check examples of their previous work as well as references from their clients.
Regardless of who you are going to hire there are several things to look for when you choose.
Do they provide examples of previous work? Any agency or freelancer should be able to show them to you. The portfolio is usually presented on their website.
Do they provide you with design mock-ups before they start developing? It is important to see how your website will look when it's ready to avoid going back and forth during the development process and delaying the launch date. Here is an example of our website mockup that shows a client exactly how their website will look before its even built. The concept saves everyone time.
Do they provide support after the site is developed? Maintaining a website is also a lot of work. There are configurations to be set and plugins to be updated. The agency or freelancer you choose to work with may offer you support on-demand or as a part of a subscription plan.
Do they offer other services that may be of use to you later? If running the website seems too overwhelming, some agencies also offer marketing or content writing plans that will allow you to focus on your business rather than your online presence.
Don't waste your money – know what to ask your web developer, Check out Questions to ask my web developer – business.vic.gov.au
Step 8: Choose a Content Management System
A content management system, or CMS, is the platform on which your website will be built. A CMS helps you create, manage, and update the content of your website without having to write code.
There are several popular options to choose from.
The most popular option, and nearly a must if you have chosen to prepare the website yourself, is WordPress. With a share of 35% of all websites and 62% of all CMS-based websites, it is only natural that it suits any design idea you may have. What's more, most hosting providers offer support for WordPress including free installation and automatic updates.
WordPress is used by 63.4% of all the websites whose content management system we know. This is 36.6% of all websites. – w3techs.com
Should you choose another content management system, the developer or designer preparing the website will be able to guide you into the ups and downs of each one so you can choose the one to suit your needs best.
If you are planning on using a content management system such as WordPress, you can find lots of ready to install website themes on marketplaces such as Themeforest.
There are also many drag and drop page builders you can add into WordPress to help you style your content:
You might be interested in: The Top Australian Websites Using WordPress
Step 9: Plan Your Website Layout
When you finally start thinking about the website layout, the importance of planning a website will be clear to you. By now you know what goals you are aiming to reach, you have planned (and hopefully prepared) some of your content. You know who your targeted users are, what your competitors are offering them, and what they are not.
With all this in mind, planning a new website layout is significantly easier.
To create a truly successful website you need to have a proper organisation that allows for easy and intuitive transition from one page to another. To do this you need to sit down and think of all the pages you want on your website. In the meantime, consider the following:
Roughly how many pages are you willing to have? A basic website with only a few pages will be easy to put together, but if you are going to have a large number of pages think about organising them into categories and subcategories.
Which are your most important pages and/or categories? They should be available in your main menu and reachable from every other page.
A common method to arrange all pages into place is conducting a card sorting session. In essence, write down the names of all pages on separate cards and start arranging them into groups that would make sense to your users. These groups could then become the categories and subcategories.
Once you have the structure ready, put it together in a sitemap/mindmap as a base for your website layout. If you struggle to do this by yourself, a website designer could help you as part of the designing process.
Pro Tip: Try using mind-mapping software such as MindMeister or Gloomaps to plan your website.
When you have the complete structure you are ready to start designing. There are two ways to design your website:
By using a website builder
Website builders are intended for those on a limited budget who wish to create their own website design but do not have coding experience. There are a vast number of free or paid templates to choose from.
To personalise the selected template you need to upload your own images and other content. Some templates also allow you to change the colour scheme, fonts, or to rearrange the blocks but you may need some basic coding knowledge to do this. One of the struggles of designing your own website is getting the site to properly represent your brand.
If you're planning a more complicated website, however, or you just don't feel confident enough, it is recommended that you hire a web designer and developer for the job. They know how to incorporate the best design practices into your project and can take you one giant step further to the successful site you are hoping to get.
Step 10: Plan Your Marketing Strategy
Without a good marketing strategy, there is a high chance that very few people will ever find your website. SEO is the first step into promoting your website, but in today's competitive web environment it is in no way sufficient.
There are three main ways of marketing a new website:
Social media marketing
Paid advertisement
Content marketing
The three types work together to get a much needed extra push for getting noticed by your potential visitors.
The platforms that will be used to promote the website should be carefully selected to reach your target audience. This is more proof of the importance of planning a website, since you already know who your user personas are and what budget you have set for marketing purposes.
Creating a working marketing campaign, however, is easier said than done. Paying for advertisement might get your website out there, but it is not nearly enough. You need to attract people's attention, engage with them, and make them visit your website.
If writing catchy copy is not your strength, there are digital marketing agencies that can do this for you. Web design companies with large portfolios also provide marketing services that will make the investment worth it by reaching and engaging the right audience.
If you still wish to do it yourself, be sure to write down a detailed marketing plan and stick to it.
Tools for Planning a Website
Now that we have covered the basic steps of planning a new website, it's time for you to start putting them into action. To make your life a little bit easier, here are some tools that can help you in the website planning process.
Make My Persona
If you like the idea of creating a user persona but the process of organising and designing the profile troubles you, Hubspot's Make My Persona has it covered for you.
The tool allows you to create a persona easily and quickly by asking you a series of questions about the targeted user including age, education level, goals, duties, challenges, and more.
The created persona will then be sent to your email for you to download.
And the best thing about the Make My Persona tool is that it is easy to use for everyone and it's completely free.
Ahrefs
Ahrefs is a professional SEO tool that could greatly help you in planning your website with features such as keyword management, link building, content marketing, competitors research, niche monitoring, and traffic searching.
When used properly, the tool can greatly boost the organic traffic your website captures from the search engines. Prices range from $99 a month for a lite plan to $999 for agencies. Unfortunately, there is no free trial for you to try before you decide to purchase.
While the interface is not very intuitive for beginners it is a powerful tool for people with some marketing experience. Often, when you employ a professional digital marketing team, you'll get all the benefits of Ahrefs without the hard work.
Ubersuggest
Neil Patel's Ubersuggest is another great tool for SEO. With prices starting from $29 per month it offers access to over 1 billion pieces of content, 6 billion keywords, and 2 trillion links. Sounds impressive? No doubt Ubersuggest is one of the best-valued SEO tools out there.
Among the benefits is also the integrated Google Suggest that helps you find long-tailed keywords people are actually searching for. In addition to keyword research, the platform also allows you to complete a competitive analysis and get inspired for new content, all compiled in a user-friendly interface.
SEO Spider
Another useful SEO tool is Screaming Frog's SEO Spider. Spider is a site crawler that allows you to find issues with your website that may otherwise take you too much time to notice.
The tool crawls your website to find broken links, duplicate content, as well as areas for improvement for your titles and metadata. It can also generate XML sitemaps and visualise the site architecture.
SEO Spider is suitable for both small and very large websites. While the free plan allows you to crawl up to 500 URLs which is a sufficient amount for most websites, for $149.00 per year you could monitor unlimited pages and get access to a bunch of additional useful features.
The paid features also include scheduling, custom crawling configurations, Google Analytics and Search Console integration, free technical support, and much more.
Slickplan
Slickplan is a tool that could greatly help you through the complete planning process.
Among its features:
A sitemap builder to allow you to create your sitemap in a matter of minutes.
A diagram maker for optimising the user experience by planning user interactions and identifying potential issues.
A content planner to create great content with consistent style and layout, as well as collaborating with other contributors.
A design tool for creating mock-ups and sharing them with team members and clients, all while keeping an eye on the feedback and version control.
Slickplan is a paid tool with plans ranging from $8.99 per month billed annually for one user to $89.99 for companies in need of unlimited users to collaborate with. The tool does, however, offer a 30-day free trial which could be enough time to plan a smaller website.
Mockplus
If you want to take the design in your own hands, Mockplus' Web Prototyping Tool allows for fast and easy prototyping from wireframes to interactive prototypes.
The tool is also useful for specific designs like pop-up panels, scroll boxes, or stack panels. The drag and drop creation makes it easy to use for everyone from rookies to advanced designers.
In the meantime, the interactive elements and page linking allows you to create a fully functional interactive mock-up. Complete with collaboration, feedback management, and version control, Mockplus can take you through the whole design process.
It's free to use if you have a limited number of users and projects. The paid plans allow for larger team collaboration and provide additional features such as roles and permissions, one-to-one customer service, and advanced access speed.

Wait, what about the legal stuff?
Every website regardless of its purpose needs to have a privacy policy. As a website design agency, we tend to notice small things on websites that may not be obvious to regular browsers. It's alarming how many websites in Australia don't have a privacy policy.
A privacy policy is a statement or legal document (in privacy law) that discloses some or all of the ways a party gathers, uses, discloses, and manages a customer or client's data. – Wikipedia.
If you are building an online store, check out Shopify's Free Privacy Policy Generator.
For service-based businesses and blogs, we use and recommend using privacypolicygenerator.info.
Get Professional Web Design Services From Masters of Digital
We've covered 10 of the most important steps to take with every new web design project. If the learning curve seems too steep, the time-investment too great, or if you just want to ensure that your website is the absolute best it can be, get in touch with Masters of Digital. We've got a long list of happy web design clients that we would love for you to join.
Get A Free Website Design Quote
Considering a new Website? Complete the below form to discuss your project and get a free quote.